The Chinese people have a rich cultural heritage and background. All the festivities that take place in the region are filled with a lot of diversity, and it is always a colorful experience. However, it is possible to represent the rich variety of the Chinese people by printing unique Chinese boxes for your brand. You can customize your packaging boxes to show how beautiful the Chinese culture is. In addition to displaying the fascinating culture of the Chinese people by printing high quality and unique Chinese packaging boxes, these packaging boxes can also be used to enhance your business. If you own a restaurant where you sell a delicious Chinese meal, you can improve your business by delivering your meals with high-quality Chinese takeout boxes. These boxes will be very beneficial to your business. They can be used to differentiate your brand from others. Below are highlights of how the boxes can enhance your business.
High-Quality Printing
Have you ever come across high-quality boxes that you can't stop looking at? Well, you can get the same type of boxes if the right professional did your printing. However, modern printing technique such as digital and offset printing can be used to deliver high-end Chinese takeout boxes that onlookers cannot resist. You can customize your boxes with any of these modern technologies, and you will see the impact it will have on your business or event. It is very glaring that your customer base will increase once you start using high-quality Chinese takeout boxes for packaging your delicious Chinese foods.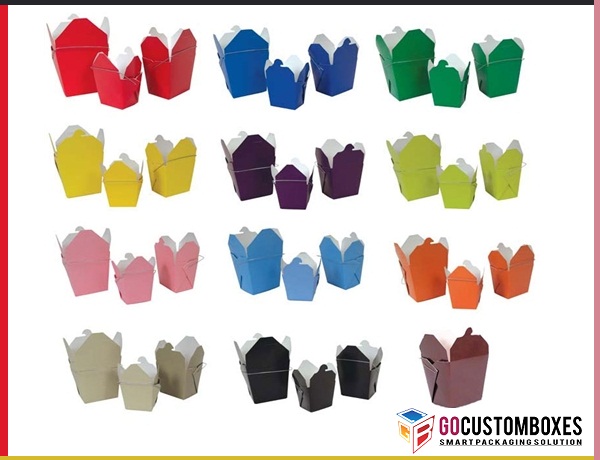 Attractive Colours
The Chinese takeout boxes can be made more enticing and beautiful with modern color technique. However, the invention of the CMYK and PMS color technique is a significant boost to businesses that require high-end boxes. You can choose any color that you want for your packaging boxes or combine two colors to make them more artistic in design. Everyone gets attracted to beautiful colors and by using the same for your boxes, this packaging idea with elevating your business and sales.
High Quality and Durable Stocks
Consumers love food items that are delivered in durable packaging boxes. This is because the food that is packed inside will be preserved for a long time. It will also retain its freshness and taste. Chinese takeout boxes can be customized with different materials, such as cardboard, Kraft paper, as well as the corrugated board. However, these boxes are also available in varying degree of thickness, ranging from 280 GSM to 550 GSM. You can choose any range of thickness of these materials you want for your products. The materials used for printing Chinese takeout boxes can also be printed easily. You can customize it to any unique design or style you want, according to your need and budget size.
Special Finishes
The Chinese takeout boxes can be made more appealing with high quality finishing such as matte, spot UV, embossing, de-bossing, glossy, as well as raised ink. You can choose the finishing you want for your Chinese packaging boxes. However, these modern finishing techniques can help to make your packaging boxes to look more enticing and durable. Attractive Chinese boxes will cause your business to stand out. There are other people, who are into the same company as you, so you can add more value to your own business and uniquely present your products. The Chinese takeout boxes can be used to enhance your business. Apart from printing colorful and high-quality packaging boxes for delivering your tasty Chinese delicacies, you can also add relevant information about your company and products on your packaging boxes. You can customize this for every Chinese takeout boxes you choose, to make your business unique. These boxes can be used for light promotional activities. You can add images that will remind people of the individual products you sell or you can only print your company logo on these packaging boxes. You can also print handles for your boxes so that your customers can conveniently carry their delicious meals, away from your restaurant. For any event, you can print Chinese takeout boxes that will mimic the color and style of your event.